Residence
Facilities
Professionally equipped kitchen with big gas stove, oven, dish washer, microwave, kettle, coffee maker, fridge, freezer, beer fridge, tableware and cooking utensils to cater for at least 50 persons
Separate bathrooms for male and female with each 2 showers
wooden tables for indoors (2 x 12p. and 2 x 10p.), 5 round tables (8p.) and outdoors (2 x 8p. and 1x6p.)
ping pong table
BBQ set
bar
2 speakers that can be connected with regular jack cable and usb, or with airplay through wifi
wireless internet
2 High chairs and 1 baby bed
in the barn: 32 beds spread over 3 rooms (see map below for details: room 1, 2 and 3)
in the side house: 14 beds spread over 3 rooms (see map below for details: room 4, 5 and 6)
mezzanine with stove, sofas and table
beamer & projection screen
hose to clean mountainbikes
Rooms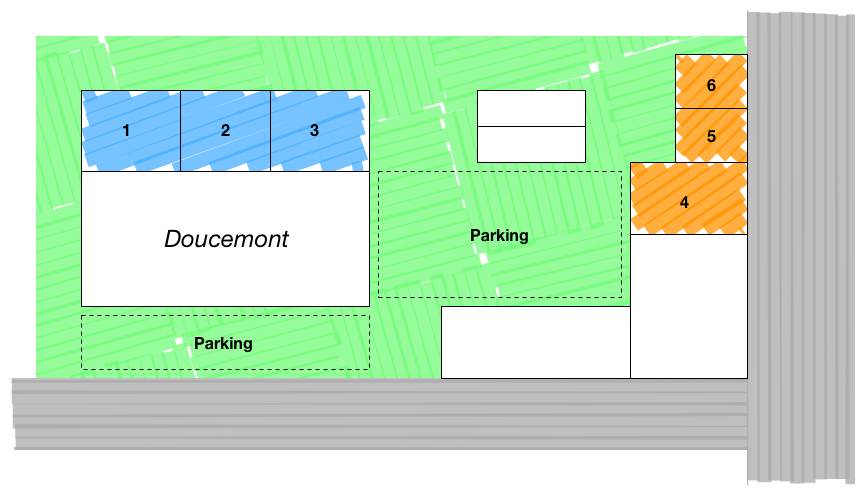 Room 1
11 persons
5 single beds, next to one another
2 double beds
2 single high sleepers
Room 4
10 persons
4 single beds, next to one another
4 single high sleepers, next to one another
1 double bed
Room 2
12 persons
9 single high sleepers
3 single beds
Room 5
Room 3
9 persons
5 single beds, next to one another
1 double bed
2 single high sleepers
Room 6
Online reservations
To make a reservation, go to our planning and select the available dates on the booking calendar.
Bookings are confirmed upon receiving a deposit of 500 euro (which serves at the same time as a deposit) on KBC bank account of VIJVERBOS NV with IBAN number BE 58738617110079.
Feel free to contact us in case of questions, mail info@doucemont.com or call +32 473 67 03 75.