Prijzen
Prijzen voor het hoofdgebouw (32 personen in kamers 1, 2, en 3)
Inbegrepen in alle huurprijzen: eindschoonmaak, toeristenbelasting en afvalophaling

Niet inbegrepen
* volgens huidig tarief van leverancier: gemiddeld 120€ voor een weekend, gasprijs varieert per seizoen
** enkel indien nodig, mag je zelf ook meebrengen
Pricing for main building (32 people in rooms 1, 2, and 3)
Included in the rental price: cleaning, tourist taxes, and garbage collection
Not included

** only if required, you can bring your own
Formules bâtiment principal (32 personnes dans chambres 1, 2, et 3)
Inclus dans les formules : nettoyage, taxe touristique et collection des ordures
Pas compris
* à base de tarification des services publics: en moyenne 120 € par weekend, chauffage varie selon saison
** si besoin, vous pouvez les amener vous-même
Geniet bij Doucemont onbezorgd en in alle rust van een vakantie met je familie, vrienden, leden van de sport- of hobbyclub.
Vind hier de inspirerende en kostbare rust die je zoekt voor een (meerdaagse) brainstorm, teambuilding, opleiding of seminarie.
Vakantieverblijf Doucemont ligt omgeven door de uitgestrekte weiden en glooiende akkers van Heuvelland en biedt een adembenemend vergezicht op de landelijke omgeving van de Westhoek.
Doucemont is uitgerust voor overnachtingen van groepen tot 32 personen. Er kan een aanpalend huisje met 14 extra bedden bijgehuurd worden.
Building of the site
In 2012 Francis Dejonghe started with the renovation of an old barn at Dranouter. He transformed the barn into a large house that offers magnificent panoramic views on the surrounding countryside.
His first ambition was to build a house that can accommodate large groups. Gradually, the site grew to become a perfect place to host team buildings, family reunions, or off site meetings.
The exterior of the building has remained almost intact. Many of the original features were preserved to make the house seamlessly integrate into the landscape of Heuvelland: a succession of broad farmlands and lovely hills. Heuvelland is a wonderful region to find nature and calm.
Francis wanted to design the barn in a way so that residents at Doucemont could feel the nature and calm of the area, also from the inside. The open architecture and  the usage of only natural materials such as steel and wood, resulted in an industrial look that meets in harmony with the surrounding area.
Large groups looking for accomodation
At the same time, Doucemont meets the needs of large groups looking for accommodation. He designed and built 32 beds in the barn, and extended the sleeping capacity with 14 beds in the farmers' side house, which he renovated in 2013.
As a visitor, you can make use of the year round facilities, but you can also customize your own event. Every event is unique.. and Doucemont allows you to create your own concept.
Bring your own party tents, invite others to camp next to the building, host a BBQ..
Doucemont welcomes guests from all over the world!
Profitez au Doucemont sans soucis et dans la tranquillité d'une vacance en famille, entre amis, ou membres de votre club (de sport ou d'hobbies).
Trouver la tranquillité inspirante et précieuse que vous cherchez pour un remue-méninges, team building, une formation ou un séminaire.
Ou surprendre vos invités avec ce lieu unique pour votre réception, fête ou un événement.
Doucemont est entouré par des prairies et des champs magnifiques et offre une vue splendide sur la nature du Westhoek.
Doucemont est équipé de 32 lits.
U kunt de beschikbaarheid bekijken en een booking aanvragen via de online reservatie.
You can check availability and request a booking using our online booking form.
Vous pouvez vérifier la disponibilité et réserver par la réservation en ligne.
Doucemont biedt u
Een grote open ruimte met prachtige zichten op de streek en de Kemmelberg
32 slaapplaatsen in hoofdgebouw (zie onderaan voor kamerindeling)
14 slaapplaatsen in bijgebouw (zie onderaan voor kamerindeling)
Gezellige mezzanine met zetels bij een grote kachel
Lange houten tafels voor binnen en buiten
Professioneel uitgeruste keuken met grote gasvuren, oven, afwasmachine, microgolf en koffiezet.
Ruime ijskast, diepvriezer en opslagruimte
Aparte badkamers voor mannen en vrouwen met elk 2 douches
Toilet voor rolstoelgebruikers
2 kinderstoelen en 1 babybedje
Draadloos internet is inbegrepen
Barbecue en aanmaakhout (indien voorradig)
Nieuw: mini ping-pong en pooltafel
Kamers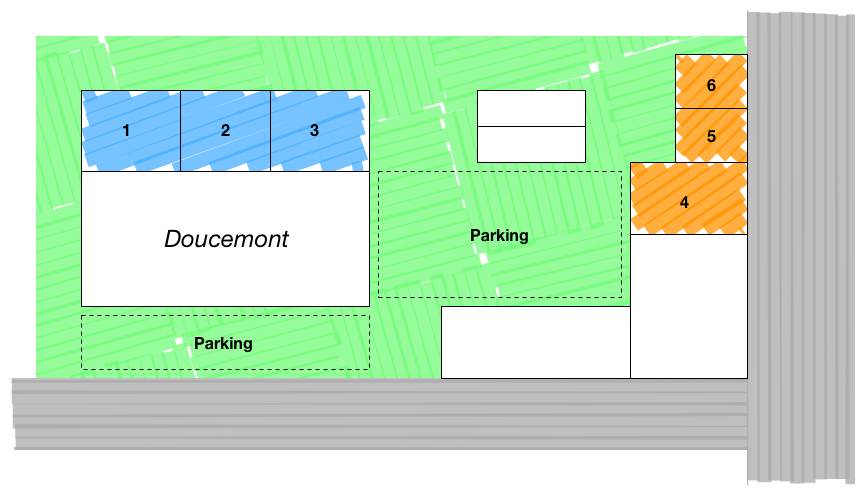 Facilities
Professionally equipped kitchen with big gas stove, oven, dish washer, microwave, kettle, coffee maker, fridge, freezer, beer fridge, tableware and cooking utensils to cater for at least 50 persons
Separate bathrooms for male and female with each 2 showers
wooden tables for indoors (2 x 12p. and 2 x 10p.), 5 round tables (8p.) and outdoors (2 x 8p. and 1x6p.)
ping pong table
BBQ set
bar
2 speakers that can be connected with regular jack cable and usb, or with airplay through wifi
wireless internet
2 High chairs and 1 baby bed
in the barn: 32 beds spread over 3 rooms  (see map below for details: room 1, 2 and 3)
in the side house: 14 beds spread over 3 rooms (see map below for details: room 4, 5 and 6)
mezzanine with stove, sofas and table
beamer & projection screen
hose to clean mountainbikes
Rooms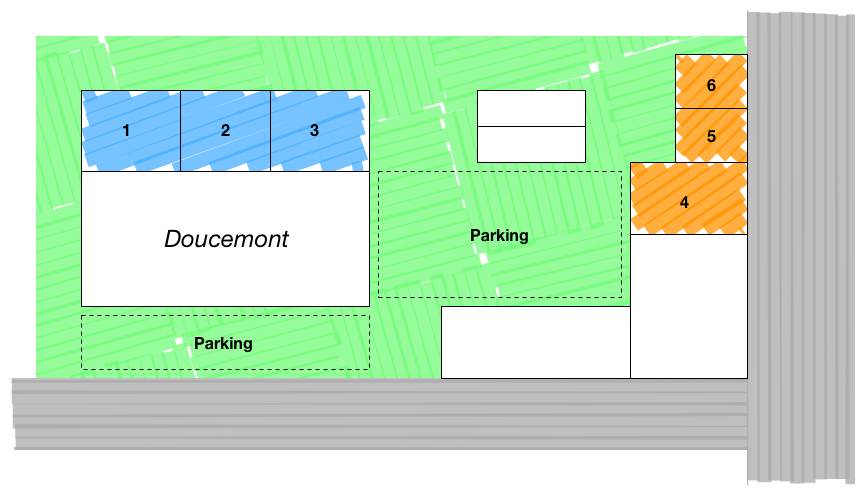 Aménagements
Une grande salle avec une vue magnifique sur la région et sur le Mont Kemmel
32 lits dans le bâtiment principal (plus de détails ci-dessous: chambres 1, 2, 3)
14 lits dans le bâtiment accompagnant (plus de détails ci-dessous: chambres 4, 5, 6)
Une mezzanine chaleureuse avec poêle et sièges confortables
De longues tables en bois pour intérieur et extérieur
Une cuisine professionnelle avec cuisinière à gaz et four, lave-vaisselle, micro-ondes et une grande cafetière.
Deux grands réfrigérateurs, congélateur et un espace de stockage
Des salles de bains séparées pour les hommes et les femmes, chacune avec 2 douches
Des toilettes pour les utilisateurs de fauteuils roulants
deux chaises hautes et un lit bébé
L'accès à l'internet sans fil est inclus
Barbecue et bois de chauffage (selon disponibilité)
Chambres